~Welcome to Arab Talk's Memories Page!~

Two years. Who'd have thought? We certaintly didn't. Fiona and I had no way of knowing that Arab Talk would become such a long lasting and popular forum for Arabian enthusiasts. Sure, we thought we'd be well received and have a good size group of subscribers, but 671? All I can say is wow. Just wow.

We'd like to invite all our readers and visitors to share in the memories we've had over the past year, as we celebrate our second year in existance!

~Baby Steps~

Arab Talk started out as a tiny email club with only 13 members subscribed when we sent out our first issue on January 26th, 1997. We now have grown to 671 (and counting) members, along the way becoming a full fledged site and forum for discussion.

Fiona and I first met while chatting in Acme Pet's horse chat. We became good friends, and it was her suggestion to start Arab Talk. Of course, theres always one whos enthusiastic and one who's not, and I really didn't think it was a great idea at first, saying that it would be far too much work. Well, the thought grew on me and we jumped into the project.

Since that time, we have helped to ban together Arabian enthusiats from around the world- from England, Japan, Ireland and Canada, to Sweden, Italy, Africa and Australia. Our subscribers hale from all over the world, literally.

Of course, Arab Talk wouldn't be possible if it wasn't for all of our wonderful members, many of which have been with us since that first issue. Thank you to all of our members for sticking with us, and in celebration we'd like to present a few "Blasts from the Past"

~~~~~~~~~~~~~~~~Arabian Talk Issue #1~~~~~~~~~~~~~~~~~~~~~~~~


1. New Member Introductions
Miranda
Keri
Julie
Alia
Sissy
2. Q&A
Darcy
Sissy
3. Letters from the editors & your suggestions/comments Sissy
4. Breaking News and Arab Club section
Peformance Requirement Reinstated 5. Fiona's Link o' the week (this will be in the next issue, sorry!!)



~~~~~~~~~~ NEW MEMBER INTROS~~~~~~~~~~~
---------------Miranda------------------
Hi! My name is Miranda Beaubien I would like to subscribe to arab talk. I have one arab named Tsyede who is my pride and joy. I endurance race with him and last month we did his first 25 miler. He thought that business was glorious so I am keeping him in it. If anyone does endurance or would just like to talk about arabs then write me at andyb@neosoft.com Miranda

------------Keri------------
OK, I am a Freshman in highschool. We have 5 horses one on the way, and 2 donkeys, one who is a mini.

-------------Julie----------
Hi, my name is Julie Kenworthy, I currently have 5 arabians, a Khemosabi son, a Muscat son, an Islamorada daughte, a Kharramba darghter and an Amerigo daughter, I will be in Scottsdale at the show in 2 weeks, can't wait. anyone else going?

---------------Alia (One of your editors)----------
Hi, my name is Alia Walton! I am 15 years old and a sophomore at Sandpoint High School, in Sandpoint (Idaho). I own one gray AQHA and just recently fell in love with the arabian horse. One of my favorite arabs is H.A. Mnisha, whom I show at local and "A" level in hunter, western, equitation, and sidesaddle. We recently finished our first year together capturing the Emerald Empire Junior Arabian Horse Club High Point Youth 14-17 end of the year award. My other interests include acting (in plays), playing piano (although I stopped lessons for a while to pursue horses), basketball, skiing, youth group, writing for my junior arab club newsletter, and singing! I am looking foreward to hearing about all of you on Arab Talk!

--------------Sissy(one of your other editors)-----------
Hello Everyone! I figured you'd probably want to know a little bit about your editors, so heres some stuff about me! I am 14 years old, and a freshman at SHS. My family owns Rosebrook Arabians (you can see our page at http://www.geocities.com/Heartland/Plains/8258 ) and we currently have 5 horses. My 1/2 Arab Gelding and I traveled to the Youth Nationals this summer, and brought back home 3 top-tens (of which we're very proud!!) Kasada is for sale, (he'll be in the Arab Horse Times in Febuary) and I'm looking for something to replace him with. Besides horses, I love to act, sing, and do things. I love being in charge of stuff!! My mom is an artist, and she does bronzes and jewelry, and as soon as I get my scanner working, her art will be on our page. I hope you all love Arab Talk (this was Fiona's idea I might add) and I hope to hear from all of you soon!!

~~~~~~~~~~Q&A~~~~~~~~~~~~
--------Darcy---------
I'm looking for info. about the Arabian/Draft cross. If anyone wants to talk about such things, let me know. Darcy.

---------Sissy----------
I was wondering what your guy's views are on the abuse going on in the Arab industry. Do you wish it would stop, feel it has stopped or just ignore it?? Post your answers in the next issue!!

~~~~~~~~~~~~~LETTERS FROM THE EDITORS~~~~~~~
----------Sissy----------
Hello All! We welcome all of you to Arab Talk!! I hope each of you enjoys each issue and please send any comments or things that you want posted to rosebrok@netw.com If you have a suggestion for Link of the week, e-mail mcgov001@maroon.tc.umn.edu or if you have one for Clubs, e-mail logan@netw.com Hope you have fun!! Sissy

~~~~~~~BREAKING NEWS AND CLUBS~~~~~~~~
IAHA has reinstated the peformance requirement. The rule now reads "Before a horse 4 and over can compete at any National Championship Show, the horse must have have been either entered, shown and placed in the top 50% of a perfomance class of at least 3 horses in a class A, B, Regional or National show or a approved Endurance or Competitive trail ride or race." Hopefully this will elimante those contenders with the bad legs, eh???

///////END OF ARAB TALK ISS. #1\\\\\\\


Arab Talk didn't always start out as "Arab Talk." The first four issues were under the name Arabian Talk, which was shortened to Arab Talk on the fifth.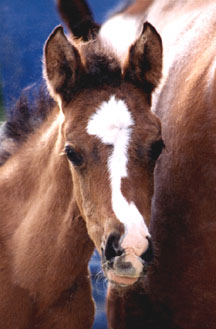 Many of you will remember this adorable filly from our first baby contest. Arab Talk member Peggi, of Equizotic, and Cassy, were the lucky winners in the Overall and Way A Head divisions of the contest.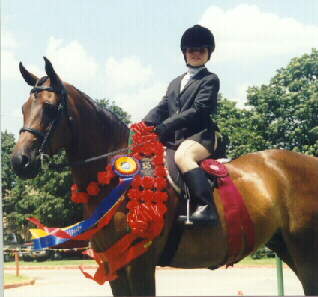 Arab Talk member Annetta Tinsman and her daughter, Rebecca, enjoyed a victorious Youth Nationals in '97, bringing home a top-ten and championship in walk-trot.

Arab Talk member Pat Duncker, of Bit-O-Honey Farm,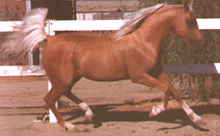 was the first ever to appear on our pages as a result of the Spotlight! program. Her stallion, Serabyi de Espana, was featured as well as several other bloodstock from her farm.


Member Joan Stone, of Stone Image Arabians, was quick to follow Pat's Spotlight. Her write-up appeared on the pages during the month of September.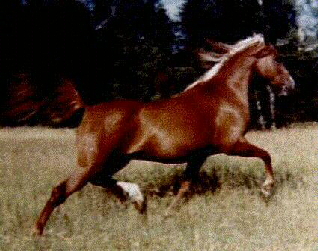 Member Pat Troiber and her ranch Nairobi Acres were presented on our page after signing up for the Spotlight program.

Susan Mayo and her farm Susar Farm Egyptian Arabians were guests on our homepage during the month of August.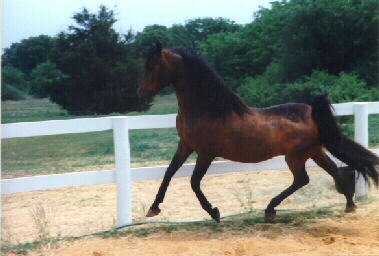 Her stallion Masada El Rabdan was featured as well as her breeding program.

Our first Most Classic Contest, resulted in the beautiful Ombre Rose, owned by member Dale and Laura Goodrich of Arabian Hills, being named the Most Classic Overall winner.

"Tub" took home the '98 Overall award in the second annual baby contest for his owners, Whispering Hills Arabians.

C&N Arabians appeared on our pages in July as a spotlight, with their stallion
Manjana Bey.


SL Capaccino and owner Triple Y Arabian also appeared on our pages in August. SL Capaccino was also crowned in Top-Ten in Western Pleasure JR. Horse at both Canada and the US Nationals!

Kover Song, owned by AT member, Roxanne Zarafonetis stormed the East Coast Championships in Stallion Halter.
Kover Song and Show Stopper Arabians made an appearance on our pages in October.

US Nationals found the appearances of three AT Members and their horses:


SL Capaccino, owned by Triple Y Arabians. US National Top Ten Western Pleasure Jr. Horse


Dona Caridad in Mare Halter

and KS Sierra Bey and Laurie Beckstead in AAOTR Hunter Pleasure.

Trainer Wendi Snook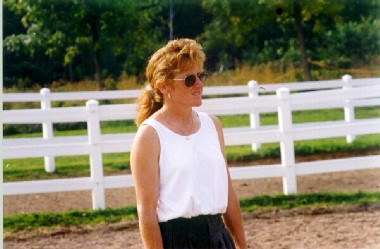 of Snook Training Stables appeared as the last spotlight of '98 on Arab Talk.

Our '98 High Point Program concluded with Cathy Kirchner & Scheherazade Sari taking top awards, as the High Point Overall and High Point Arabian.

And our second year as a publication was finished off with the second annual Most Classic Arabian contest, which saw the crowning of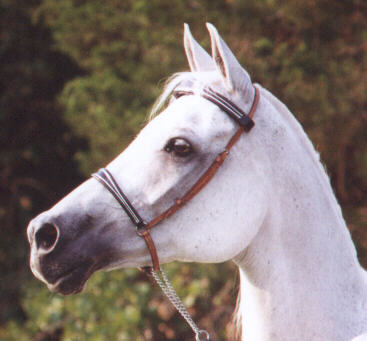 BFC Petros, owned by Michelle Wilson, as Most Classic Overall.

We'd like to thank everyone for making Arab Talk, we couldn't have done it without you! We'd also like to thank those of you who have purchased or donated to Arab Talk during '98.

Photo Ads Purchased By-



Pat Duncker, Bit-O-Honey Farms, Lancaster, CA.
Sherry Lucas, Black Rose Arabians, Abrams, WI.
Sissy and Karen Crane, Rosebrook Arabians, Sagle, ID.
Pam Salem, Horizon Farm, Seymour, TN.
Candace Westlake, Republic Arabians, Trilby, FL.
Dawn Goodman, Ember Heart Arabians, Nashville, MI.
Susan Mayo, Susar Farm, Denton, TX.
Paula da Silva, Italy.
Vicki Webb, Sagle, ID.
Jacqui Dodd, Athol, ID.
Terry Opperman, Sagle, ID.
Daria Jones, Mason, MI.
Dale Goodrich, Arabian Hills.



Donations Received From-



Karen Crane, Equine Creations, Sagle, ID.
TopTenArt, Logandale, NV.
Ember Heart Arabians, Dawn Goodman, Nashville, MI.
Equinomical Horse Supply, Lisa Neitzel, Oregon, WI.
3 Mares.
Pontiac Arabians, Su Wilson.
Horse Powder.
Trotting Park Workshop, E. Falmouth, MA.
Easy Keeper
Frank Bell
Sierra Ranch Supply, Twin Falls, ID.
Tropical Rider.
The Right Horse.
Roxanne Zarafonetis, Show Stopper Arabians, Timonium, MO.




Once again, we'd like to thank all of you who've stuck with Arab Talk through thick and thin! We hope to celebrate many more years as a publication.

Would you like to share your special memories that have occured over the last two years? Please share them with Arab Talk!

Email: rosebrok@televar.com or memento1@hotmail.com